Welcome to our school!
We want to be the "great school" that your children, and you, will remember in years to come. We want to be the place that gave your child the foundations for the future: a place that gave the memories; the residential trips, the dances, Sports Days, Born to Shine, Gulbenkian Productions in Year 6, school clubs - football, hockey, gymnastics, the fun and laughter, high expectations, developing independence, creativity, consideration and respect for others.
As a great school we offer children a fantastic set of opportunities for learning and developing. We have some amazing teachers and some charismatic children.
St. Stephen's Junior is a large, friendly, well-resourced school, located on a fantastic site close to the city centre. For over 150 years, St. Stephen's Junior School has held a central place in the local community. This, we still do today with community lunches, city wide performances and our central role in community life. The original school building, founded by the Reverend John White in 1848, located on St. Stephen's Green, moved to it's present location in 1952. The separate infant school opened in 1971.
Since 1995, extensions have been made to our Year 3 and Year 5 areas, and a new ICT suite was added in 2004. A purpose-built nursery was opened on site in May 2009, providing high-quality day care for children aged between three months and five years.
His Royal Highness, The Duke of Kent opened the Phil Munson Sports Hall and dance studio in November 2009. In 2014 the School expanded to a four form entry with the erection of a spacious and well-equipped modular unit to accommodate Year 6 in preparation for moving to secondary school. As a result, our classes are smaller than average - 25+, allowing more individual attention for each child.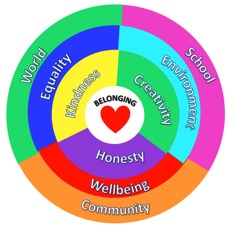 We are committed to providing a high quality education for all children. We believe the more opportunities we can offer children, the more children will be empowered, the more they will learn and the more they will want to work hard. At school we recognise the individuality of all children as well as their unique skills and needs. We encourage all children to strive to achieve their full potential and maximize their unique talents. We believe that hard work and commitment to learning is the key to success.Through hard work all children can achieve their potential, whether it is in maths, music, dance, sport or reading.
At the school we also have a well-equipped and "outstanding" Day Nursery and Breakfast and After School Club. These provide invaluable learning opportunities as well as a support for parents. Parents and families are also well supported by our Family Learning Manager and Family Liaison Officer.
We are all very proud of our school. We see ourselves as a team - children, parents and staff that have high aspirations, expectations and achievements.
We hope that this will be the beginning of a fruitful partnership between our school, your children and family.